Here is a warm and cozy family favorite recipe that's been updated with a spicy twist. Enjoy it on a cool winter night with corn bread or rice.
Ingredients
8 to 10 dried ancho chilis (2 tbsp ground if you can't find them)
4 cloves garlic
3 tablespoons olive oil
One 4- to 5-pound chuck roast or tri-tip roast, cut into 1-inch cubes, or try short ribs for richer, but fattier version
1 tablespoon kosher salt
1 tablespoon freshly ground black pepper
1 tablespoon paprika
2 teaspoons ground cumin
2 tablespoons tomato paste
1 large onion, sliced
2 cups beef stock
1 tablespoons sugar
2 bay leaves
Preparation instructions
Add the chilis and garlic to a saucepan, cover with water and bring to a boil. Remove from the heat and steep for 20 to 30 minutes. Pour off half the cooking liquid. Using an immersion blender, puree the peppers, garlic and remaining liquid until smooth. You can skip this step if you are using ground chilis.
Preheat the oven to 275 degrees F.
Heat the oil in a Dutch oven over medium-high heat. Season the meat with the salt, pepper and spices. When the oil is hot, add the meat to the Dutch oven and brown on all side. Set aside.
Add the tomato paste and onion to the pot and cook, stirring, for 1 minute. Add the stock, sugar, bay leaves and pepper puree to the pot and stir to combine. Return the beef to the pot and cover. Cook in the oven until the meat is fall-apart tender, 2 1/2 to 3 hours.
Remove the bay leaves. You can serve this as is as a stew, or pull it apart and serve it in tortillas as you would carnitas. Garnish with cilantro.
June 14, 2019
|

Posted in: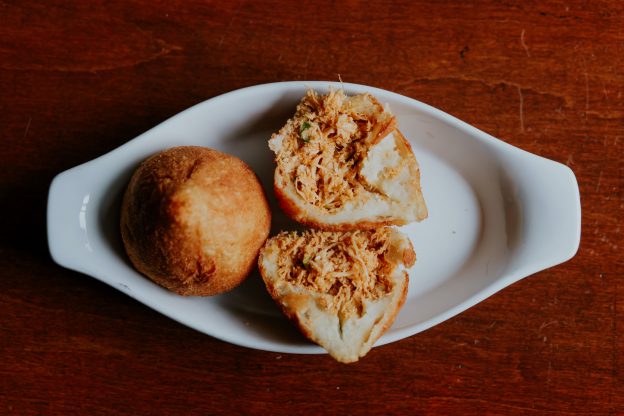 Ingredient list
1 6-pound brisket
Rub into beef:
1 1/2 tablespoons seasoning salt, pepper, paprika
Marinate beef for 8 hours in:
2 cups oil
2 cups cider vinegar
1/2 cup Worcestershire
2 bay leaves
Place in covered container over indirect heat for 3 1/2-4 hours, basting with marinade every 30 minutes.
The last hour of cooking, coat both sides of brisket with barbeque sauce. Continue to cook until tender and baste only the top.
Barbecue Sauce:
4 cups catsup
1 cup cider vinegar
2 cup Worcestershire sauce
1 medium onion, grated
1/2 cup butter
2 tablespoons seasoning salt
2 tablespoons brown sugar
1 tablespoon chili powder
1 bay leaf
1 tablespoon pepper
Bring to boil. Remove bay leaf.
April 12, 2019
|

Posted in:

Ingredient list
3 and 1/2 pounds 1st cut Beef Brisket
2 cups Heinz ketchup
1 cup brown sugar
1 and 3/4 cup apple cider vinegar
2 packages Lipton Onion Soup Mix
6 large cloves of garlic
1 tablespoon pepper
Instructions
Place all ingredients (except brisket) in a bowl and mix well.
Divide marinade in half and marinate brisket for 24 hours.
Place brisket and the marinade you marinated it in into baking pan, cover and bake 2-3 hours at 350* – fork tender.
After cooking, refrigerate overnight.
Take out and slice thinly AGAINST the grain (while cold).
Place in clean baking dish, cover with remaining marinade and reheat at 350* 15-20 minutes until hot.
March 18, 2019
|

Posted in:
Ingredient list
2 T. vegetable oil
3 lb. boneless chuck, cut into 1″ pieces
2-3 cloves garlic, finely chopped
4-6 T. chili powder
3 T. flour
2 tsp. ground cumin
1 T. leaf oregano, crumbled
2 (13 3/4-oz.) cans beef broth
1 tsp. salt
1/4 tsp. pepper
1 (15-oz.) can pinto beans, optional
1 (8-oz.)container sour cream
1 lime, cut into wedges
Instructions
Heat oil in 4-qt. kettle over medium heat. Add beef and cook; stir frequently, until meat changes color but does not brown. Reduce heat to low; stir in garlic. Combine chili powder, flour and cumin in small cup. Sprinkle meat with chili mixture; stir until evenly coated. Crumble oregano over meat. Add 1 1/2 cans of broth; salt and pepper. Stir until well blended. Bring to boil over medium heat; stir occasionally. Reduce heat to low. Partially cover and simmer for about 1 1/2 hours; stir occasionally. Add remaining broth. Simmer for 30 minutes longer or until meat is almost falling apart. Cool; cover and refrigerate overnight to ripen flavor. Reheat chili. If using pinto beans, drain and stir into chili. Garnish with sour cream; serve with lime wedges. Makes 8 servings.
March 1, 2019
|

Posted in:
Ingredient list
Ingredients 1/2 kg. (Rump beef) cut by knife in squares,1 bunch green onion, oregano (4 or 5 strings)2 onions, 4 tbsp oil,3 Hard eggs.At ease: Cumin, salt, sweet paprika and olives. 1) Cut the onions into small cubes.
Instructions
Beef picadillo filling and empanada assembly:
Combine the beef, paprika, cumin, salt and pepper in a large bowl, mix all the ingredients together and chill until ready to use.
heat the oil in a large frying pan or sauté pan, add the onions and salt, cook until the onions are soft, about 8 minutes.
Add the meat mixture to the onions and cook on medium heat until the meat is done, stir frequently.
Let the meat mixture or picadillo cool down, and then mix in the chopped green onions and chopped oregano.
To assemble the empanadas add a spoonful of the meat mixture on the center of each empanada disc, add a slice of egg and sliced olive.
Brush the edges of the empanada discs ( I buy them frozen, and defrost for use) with the egg whites, you can also use water but the egg white is a good natural "glue" that helps seal the empanada.
Fold the empanada discs and seal the edges gently with your fingers, twist and fold the edges of the empanadas with your fingers, as a final step use a fork to press down and finish sealing the empanadas.
Lightly brush the top of the empanadas with the egg yolk; this will give them a nice golden glow when they bake.
Let the empanadas rest in the fridge for about 30 minutes or until ready to bake.
Pre-heat the oven to 400 F and bake for about 20-25 minutes, until golden on top.
you can pan fry in oil until brown or crisp.
Serve warm with chimichurri sauce or other dipping sauces.
January 22, 2014
|

Posted in:
I added red wine and black olives to this stew-like pasta sauce to crank up the fullness of the flavor, but my kids loved it too!

Ingredients
2 large beef or veal shanks
2 tablespoons of olive oil
1 onion
2 garlic cloves
1/2 cup red wine
2 sprigs fresh thyme leaves, or 1/2 tsp dried
32 oz or 1 quart of canned crushed tomates (I used the home-made sauce I made this summer in this video!)
salt and pepper to taste
Preparation Instructions
Roughly chop the onion and garlic. Heat the oil in a heavy skillet. Brown the onion and garlic, about 3-5 minutes, until translucent. Add the shanks and brown on both sides (about 3 minutes a side). Add red wine and cook 5 minutes. Add tomato sauce and seasoning. Transfer to slow cooker. Cook on high heat for 6 hours. Remove the shanks and shred the meat. Return to sauce.
(I ended up refrigerating the sauce for a couple of days, and it only got more delicious!).
October 9, 2012
|

Posted in:
from Jennifer L.'s book, North Branch , MN
Ingredients
1/2 c. chopped onion
3 tbsp butter or margarine
1 beaten egg
1 c. light cream
1 1/2 c. soft bread crumbs
1/4 c. finely snipped parsley
1 1/4 tsp salt
ground beef
Preparation instructions
Cook onion in 1 tbsp of the butter or margarine till tender. In a mixing bowl combine egg and cream; stir in cooked onion, bread crumbs, parsley, salt, nutmeg, ginger and pepper. Add ground beef or meats; mix well. Chill mixture. Shape chilled meat mixture into 3/4 to 1 inch balls.
Brown meatballs, half at a time, in the remaining 2 tbsp butter or margarine; remove from skillet. Stir flour, bouillon granules, and coffee crystals into pan drippings; add 1 1/4 c. water. Cook and stir till thickened and bubbly. Add meatballs. Cover; simmer about 30 minutes, basting meatballs occasionally.
May use mixture of 3/4 lb ground beef, 1/2 lb ground veal, and 1/4 lb ground pork for the meatballs.
Submitted by: Jennifer L
September 27, 2012
|

Posted in:
by Mandy D.'s book, Colton, SD
Ingredients
1 1/4 lb. lean stewing beef cubes
4 med. carrots, sliced (can use baby carrots instead)
1 med. onion, sliced
3/4 c. celery, cut up
1 2/3 c. potatoes, cut in 3/4″ cubes
1 c. tomato juice
1/3 c. water
1 T. sugar
1 2/3 T. Minute Tapioca
Salt, to taste
Preparation instructions
Mix all of the above ingredients well and cover in a large casserole or enamel roaster. Bake at 250 degrees for 5 hours. Do not brown or do not uncover once. You'll be tempted, but DON'T PEEK.
Submitted by: Joyce K
by Natalie K.'s book, Valencia, CA
Ingredients
1 roped beef roast (eye of round)
1 lg brown onion
1 bag of baby carrots
1 cabbage
bunch of small red potatoes*
bunch of celery
1/2 to 1 cup of Merlot
2 cartons of beef broth
2 cups of water
flour and seasoned salt
salt and pepper to taste
coriander (the magic ingredient)
*you can also make with pearled barley. Use 1 cup of barley to two cups of water and simmer until soft, about 30 minutes. Add to stew.
Preparation instructions
Put roast in ziplock bag with flour and seasoned salt and coriander. Shake and coat on all sides. Heat oil in pan and brown in a 1/2 stick of butter in large stockpot. Brown roast on all sides, searing it well. Add onion and sauté. Add celery. Add wine, water, 1 broth, potatoes, carrots, cut up cabbage. Let simmer 3-4 hours. Keep adding wine and 1 more broth. Keep all wet and bubbly. Remove roast. Cut rope and meat should fall apart. Spoon broth over meat and serve.
Submitted by: Natalie K
October 10, 2011
|

Posted in:
from Jennifer L.'s book, North Branch , MN
Ingredients
6 large green peppers
1 lb ground beef
1/2 c. chopped onion
1 (16 oz) can tomatoes, cut up
1/2 c. long grain rice
Preparation instructions
Cut tops from green peppers; discard seeds and membranes. Chop enough of the tops to make 1/4 cup; set aside. Cook the whole green peppers, uncovered, in boiling water for 5 minutes; invert to drain well. Sprinkle insides of peppers lightly with salt. In a skillet cook ground beef, onion, and the 1/4 c. chopped green pepper till beat is browned and vegetables are tender. Drain off excess fat. Add undrained tomatoes, uncooked rice, water, salt , worcestershire, and dash of pepper. Bring to boiling; reduce heat. Cover and simmer 15 to 18 min. or until rice is tender. Stir in cheese. Stuff peppers with meat mixture. Place in a 10x6x2 inch baking dish. Bake, covered, in a 350° oven for 30-35 min.
Submitted by: Jennifer L