Ingredient list
1 3/4 cups flour
1 tbs pumpkin spice
1 tsp baking soda
1/2 tsp salt
1 15 oz can pumpkin puree
1 cup sugar
1/2 cup brown sugar
2 eggs
1/2 cup vegetable oil (or applesauce) 1 tbs vanilla extract
FILLING:
8 oz cream cheese
1/4 cup sugar
1 egg yolk
2 tsp vanilla extract
Instructions
Preheat oven to 375. In medium bowl, whisk flour, pumpkin spice, baking soda, and salt until well combined, set aside. In large bowl, whisk together pumpkin, sugar, and brown sugar. Beat in eggs, oil, and vanilla. Slowly whisk in the flour mixture, until there are no lumps. Fill muffin tins 3/4 full. In medium bowl, beat cream cheese until smooth. Add sugar, egg yolk, and vanilla, and beat until combined. Top each muffin with about 1 tbs of cream cheese mixture and use tooth pick to slightly swirl into batter. Bake muffins for 18-20 minutes.
November 22, 2016
|

Posted in:

Prep Time: 15 min.
Total Time: 1 hour, 15 min., plus chilling time
Ingredients
Pie Dough:
1 ¼ cups flour
¼ tsp salt
1 tbsp sugar
1 cup cold, unsalted butter, cut into small cubes
2-3 tbsp ice water
Filling:
2 cups pumpkin puree (either from a can or homemade)
2 eggs
½ cup brown sugar
1 cup 35% cream
1 tbsp pumpkin pie spice
¼ tsp salt
Directions
1. In the bowl of a food processor pulse to combine flour, salt and sugar. Add cubed butter and pulse until mixture resembles coarse meal. Add 1 tbsp ice water at a time, pulsing to combine. Mixture should hold together when pressed together but will still look a bit crumbly. Transfer crumbly dough to a lightly floured countertop. Knead a few times to press into a disc and wrap in plastic wrap. Refrigerate for at least 1 hour.
2. While the dough is chilling, make the pie filling. Whisk together pumpkin puree, eggs, brown sugar, cream, pumpkin pie spice and salt.
3. Preheat oven to 425F. Roll out dough into an 11-inch circle. Place in a 9" pie dish. Trim edges so that there is only ½-inch overhang. Fold edges underneath and crimp. Pour filling into pie shell. Bake for 15 mins., then reduce temperature to 350F. Bake for an additional 45 min., until filling is set and pie crust is golden brown. Let cool completely before slicing.
4. Serve with whipped cream and a sprinkle of cinnamon.
December 2, 2013
|

Posted in:
These decadent treats have a chewy gingery crust, a creamy layer of pumpkin cheesecake and crunchy spiced pecans on top. And they're surprisingly easy to make!

Ingredients
1 1/2 cups crushed ginger snaps (about 30 cookies)
1/2 can sweetened condensed mil
1 brick of cream cheese
2/3 cup of pumpkin puree
2 eggs
1 tsp vanilla
1/2 cup brown sugar
1/2 sour cream
1/4 cup brown sugar
1 tbsp butter
1/4 tsp ground ginger
1/4 tsp ground cinnamon
1/8 tsp ground cayenne pepper
100 gr (small bag) chopped pecans
Preparation Instructions
Preheat over to 350.
Line a 9″ square baking pan with parchment paper.
Place crushed cookies into bottom of pan. Pour sweetened condensed milk over top. Place in over for 5 minutes. Remove from over and mix until combined.
Mix cream cheese with pumpkin and brown sugar. Beat until smooth. Gradually add eggs one at a time, and beat each time until smooth. Pour over cookie base.
Bake 35-40 minutes, until set. Cool completely.
Prepare spiced nuts: (you could just as easily add store bought pralines here!)
In a frying pan, add sugar, spices and butter. Heat until melted. Pour pecans in. Cook until sugar is dissolved, about 5-7 minutes, stirring constantly. Pour out onto parchment paper to cool.
Before serving, top squares with cream cheese and pralines. Cut and serve immediately.
September 19, 2013
|

Posted in:
from Tynetta G.'s book, Imperial, MO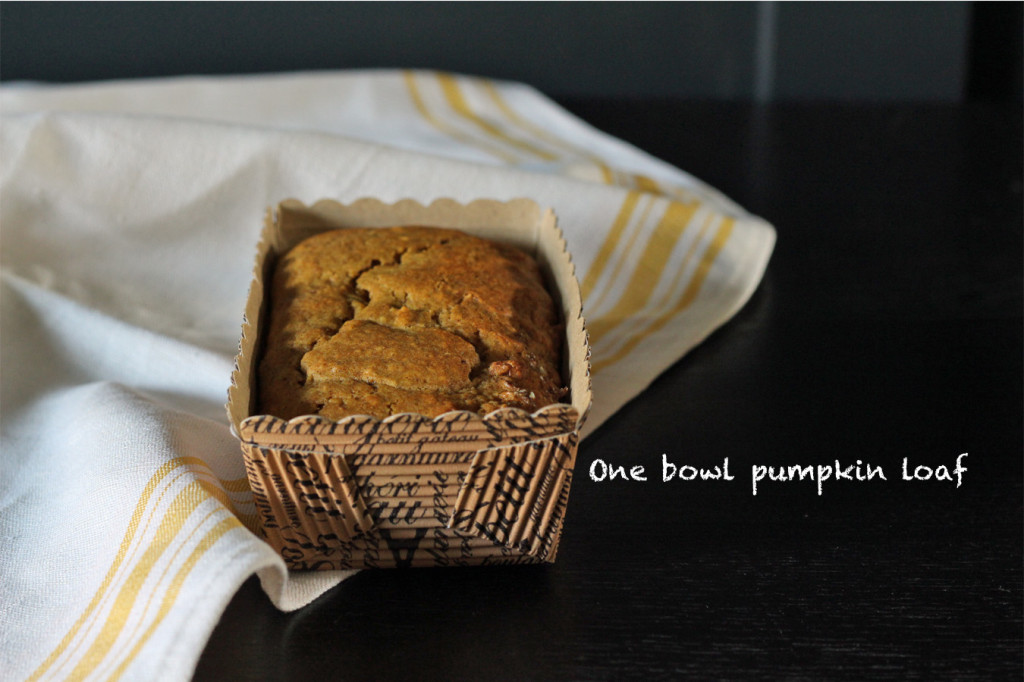 Ingredients
1 cup pumpkin
3/4 cup sugar
1/2 cup butter
2 eggs
1 1/2 cups flour
1 tsp baking soda
1 tsp salt
1 tsp cinnamon
1 tsp nutmeg
1 cup pecans
Preparation Instructions
Mix all ingredients together and bake in a bread pan at 350 degrees for 45 minutes or until toothpick comes out clean.
Heritage note: I tried this recipe with roasted pumpkin seeds and chocolate chips as well- delicious! I lessened the baking soda to 3/4 tsp and salt to 1/2 tsp.
Thanks Tynetta for this great recipe!