I made these muffins the other morning for the family and they were a huge hit. Not only were they moist and satisfying right out of the oven, but they stayed soft the next day too.
Ingredients
1 cup oats
1 cup buttermilk (or milk with 1 tsp vinegar or lemon juice)
zest of one lemon (optional)
1 cup flour
1 tsp baking powder
1/2 tsp baking soda
3/4 cup brown sugar
1 egg
1/2 tsp vanilla
1/4 cup vegetable oil
1 cup frozen berries (blueberries or raspberries are great here- cranberries would work too, but up the sugar to 1 1/2 cups)
White sugar for sprinkling on top
Preparation Instructions
Preheat oven to 375
Line muffin tin with non stick liners, or grease muffin tin
Mix milk and vinegar if you are not using buttermilk
Add egg, vanilla and oil
In a separate bowl, mix flour, sugar, baking powder and soda
Mix in frozen berries
Add wet ingredients to dry. Mix with as few strokes as possible until just blended
Spoon into prepared muffin tin, filling 3/4 of the way
Sprinkle with sugar
Bask 20-25 minutes until just set
Cool and enjoy :)

June 13, 2019
|

Posted in: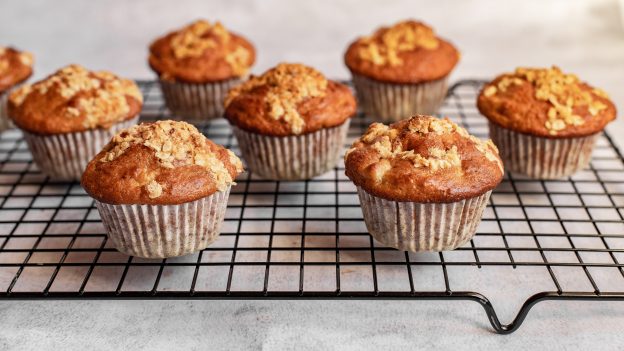 Ingredient list
2 cups flour
1 1/4 cups sugar
2 tsp soda
2 tsp cinnamon
1 and a 1/2 cups shredded carrots
1 and a 1/2 cups shredded apples
3/4 cups coconut
1/2 cup dates or raisins
1/2 cup nuts
3 eggs
1 cup oil
1/2 tsp salt
1 tsp vanilla
Instructions
Combine dry ingredients. Add rest of ingredients and mix. Bake at 375 degrees in muffin tins for 18 minutes or more.
April 27, 2019
|

Posted in:
Ingredient list
1 3/4 cups flour
1 tbs pumpkin spice
1 tsp baking soda
1/2 tsp salt
1 15 oz can pumpkin puree
1 cup sugar
1/2 cup brown sugar
2 eggs
1/2 cup vegetable oil (or applesauce) 1 tbs vanilla extract
FILLING:
8 oz cream cheese
1/4 cup sugar
1 egg yolk
2 tsp vanilla extract
Instructions
Preheat oven to 375. In medium bowl, whisk flour, pumpkin spice, baking soda, and salt until well combined, set aside. In large bowl, whisk together pumpkin, sugar, and brown sugar. Beat in eggs, oil, and vanilla. Slowly whisk in the flour mixture, until there are no lumps. Fill muffin tins 3/4 full. In medium bowl, beat cream cheese until smooth. Add sugar, egg yolk, and vanilla, and beat until combined. Top each muffin with about 1 tbs of cream cheese mixture and use tooth pick to slightly swirl into batter. Bake muffins for 18-20 minutes.