If you are looking for the ultimate oatmeal chocolate chip cookie, look no further. This is the perfect family recipe. They are chewy and moist and will not last 24 hours, promise! I've played around with different ways to incorporate the butter, and have come up with the fastest cookie method ever by simply melting the butter. No stand mixer, no creaming, and it all gets made in one bowl. Yup, one bowl moist delicious cookies you definitely need to make. You will want to create your own cookbook of cookie recipes once you know this recipe!
Ingredients
1/2 cup brown sugar
1/2 cup white sugar
1/2 cup melted salted butter
1 egg
1/2 tsp vanilla
1 cup flour
1 cup oats
1/4 tsp salt
1/2 tsp baking powder
1/2 tsp baking soda
1/2 cup milk chocolate chips
Instructions
Melt the butter completely.
In a mixing bowl, mix sugars, then pour in melted butter and whisk for a few minutes. Add the egg and mix for a few minutes. Add vanilla.
Dump flour, oatmeal, salt, baking powder and soda on top of mixture, and mix with a spatula until mixed. Add chocolate chips and mix.
Refrigerate dough 30 minutes min- I usually cool it for an hour or so.
Heat oven to 350.
Using a cookie scoop or spoons, spoon dough onto parchment lined cookie sheet, about 1 1/2″ apart.
Bake 10 minutes. When the cookies come out, slam the sheet down onto the counter to flatten the cookies. This makes them extra chewy.
Let cool and move to a rack.
March 27, 2020
|

Posted in: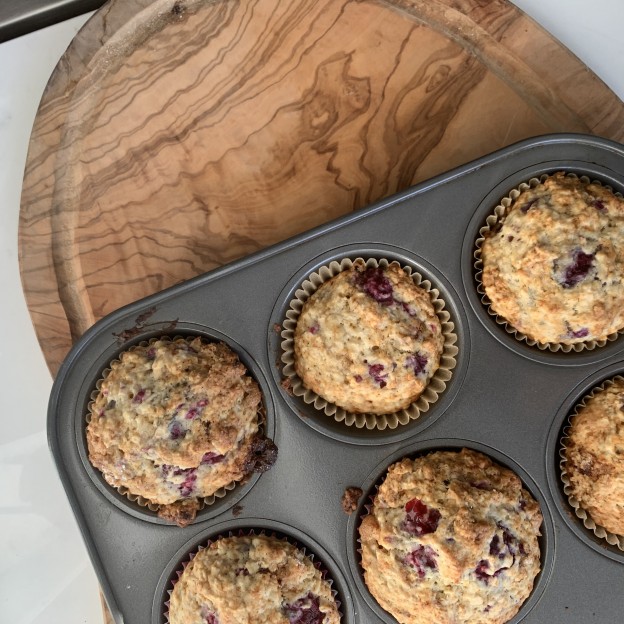 I made these muffins the other morning for the family and they were a huge hit. Not only were they moist and satisfying right out of the oven, but they stayed soft the next day too.
Ingredients
1 cup oats
1 cup buttermilk (or milk with 1 tsp vinegar or lemon juice)
zest of one lemon (optional)
1 cup flour
1 tsp baking powder
1/2 tsp baking soda
3/4 cup brown sugar
1 egg
1/2 tsp vanilla
1/4 cup vegetable oil
1 cup frozen berries (blueberries or raspberries are great here- cranberries would work too, but up the sugar to 1 1/2 cups)
White sugar for sprinkling on top
Preparation Instructions
Preheat oven to 375
Line muffin tin with non stick liners, or grease muffin tin
Mix milk and vinegar if you are not using buttermilk
Add egg, vanilla and oil
In a separate bowl, mix flour, sugar, baking powder and soda
Mix in frozen berries
Add wet ingredients to dry. Mix with as few strokes as possible until just blended
Spoon into prepared muffin tin, filling 3/4 of the way
Sprinkle with sugar
Bask 20-25 minutes until just set
Cool and enjoy :)

October 10, 2012
|

Posted in:
from Jennifer L.'s book, North Branch , MN
Ingredients
1/2 c. white sugar
1/2 c. brown sugar
1 c. shortening
2/3 c. sour cream
1 tsp soda
2 1/2 c. oatmeal
3 c. flour
1 tsp vanilla
Preparation instructions
Cream together sugars, shortening, sour cream, and vanilla. Then mix in soda, oatmeal and 2 cups flour.
The other cup of flour will be used for rolling out and cutting.
Roll out dough on pastry cloth or "tupperware" sheet. Use cookie cutters of your choice.
Bake @ 350° for 5-8 minutes or until lightly browned.
Date filling:
Microwave ingredients on high for 3 minutes, stir , then microwave on high for 3 more minutes. Allow to cool a bit, then spread on cookies and sandwich.
Submitted by: Jennifer L
October 1, 2012
|

Posted in:
from Diane B.'s book, Corvallis, OR
Ingredients
1 c. shortening
1 c. brown sugar
1 c. white sugar
2 eggs
1 t. vanila
1 1/2 c. flour
1 t. salt
1 t. soda
3 cups qq oats
1/2 c. chopped nuts.
Preparation instructions
Blend shortening and sugars; add eggs. Add flour mixture. Cookie dough will be stiff. Shape into logs, about 3. Wrap in plastic wrap or wax paper. Freeze or chill until firm. Slice 1/4″ slices and bake at 350 oven for approx 10 minutes.
If you use butter instead of shortening, cookies will be chewy instead of crunchy.
Submitted by: Diane B
September 30, 2010
|

Posted in:
from Mandy D.'s book, Colton, SD
Ingredients
10lb ground beef
3T white sugar
1lb onion, chopped
3T brown sugar
1(51oz) can tomato soup
1T accent salt
1T lawry's seasoned salt
4T prpared mustard
1T pepper
4T salt
1 1/2 c oatmeal
Preparation instructions
Brown ground beef and add sugar while browning. Drain if necessary. Add remaining ingredients and simmer until all is heated through.
Submitted by: Susan W