Ingredient list
1/2 cup grated Parmesan cheese
1/4 cup butter, softened
3 tablespoons mayonnaise
2 tablespoons lemon juice
3 tablespoons chopped green onions
1/4 teaspoon salt
1 dash hot pepper sauce
2 pounds skinless halibut fillets
Instructions
1. Preheat the oven broiler. Grease a baking dish.
2. In a bowl, mix the Parmesan cheese, butter, mayonnaise, lemon juice, green onions, salt, and hot pepper sauce.
3. Arrange the halibut fillets in the prepared baking dish.
4. Broil halibut fillets 8 minutes in the prepared oven, or until easily flaked with a fork. Spread with the Parmesan cheese mixture, and continue broiling 2 minutes, or until topping is bubbly and lightly browned.
June 16, 2019
|

Posted in: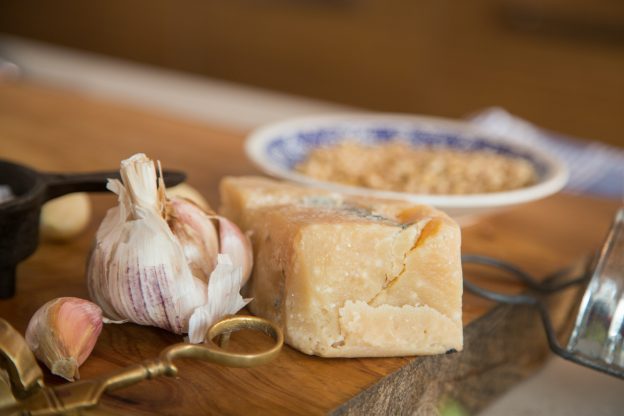 Ingredient list
3/4 cup flour
Salt and pepper
2 eggs
1 3/4 cups Italian bread crumbs
Italian seasoning
2 pounds chicken cutlets
1/2 cup coconut oil
1 (26 oz.) jar of your favorite spaghetti sauce
8-12 ounces shredded cheese (mozzarella, cheddar, parmesan)
Instructions
1. Preheat oven to 350°F. In a shallow dish, combine flour with 1/2 tsp. salt and 1/4 tsp. pepper. In a bowl, beat together eggs and 2 Tbsp. water. Place bread crumbs in another shallow dish.
2. Dredge chicken in flour, shaking off excess. Dip into egg mixture, letting excess drain. Dredge in bread crumbs, pressing on gently.
3. In a large skillet, heat coconut oil over medium/high heat. Add cutlets. Cook until golden, usually 2 minutes per side. Transfer to a 9 x 13 glass baking dish. Continue cooking with oil and chicken until all chicken cutlets are done. Can add more coconut oil if needed.
4. Pour spaghetti sauce on top of cutlets generously. Sprinkle some Italian seasoning on top of the sauce for some extra flavor. Sprinkle cheeses generously on top. Cook for approximately 20-25 minutes.
5. Can serve over pasta or on its own.
May 10, 2019
|

Posted in:

Ingredient list
2 Russet Potatoes
1/4 c extra virgin olive oil
Kosher salt & Seasoned salt
2 tbls. chopped parsley leaves
1/4 c freshly grated Parmigiano-Reggiano cheese
Instructions
Wash potatoes and par boil them in Kosher salted pre-heated water … about 20 – 30 minutes
When done, drain the potatoes and set aside
pre-heat the oven to 400 degrees
Slice the potatoes into wedges – approximately 16 -20
In a bowl add the olive oil , seasoned salt and potato wedges … gently tossing
Place the wedges on a baking sheet and bake for 30 minutes, turning them after 15 minutes
Place on a warmed platter or bowl and top with the parsley and cheese
April 16, 2019
|

Posted in:

Ingredient list
1 lb Ronzoni pasta noodles
12 beaten eggs
1 stick of butter
1 1/2 c. grated Parmesan cheese
1 pt of milk
1 can of chicken stock
Instructions
Cook noodles and drain. Add eggs, butter and cheese and milk and chicken stock. Bake 325 for 1 hour. If browning too quick lower temperature to 275 degrees.
April 9, 2019
|

Posted in:
Ingredient list
1 lb lasagna cooked
3 lbs ricotta + 1 container
4 eggs
parsley
grated Parmesan cheese
garlic powder
salt
milk if needed
Instructions
Preheat the oven to 350. Beat ricotta very fine, mix eggs and seasonings. If too dry, add a little milk. Boil lasagna about ten minutes. Do not over cook lasagna. Add oil to the pot so lasagna noodles will not stick. Strain lasagna and run water over them to stop the cooking. Put sauce in bottom of large pan and place 3 strips of lasagna, layer of ricotta mix, Parmesan cheese, sauce; continue with layering until pasta is finished. Pour sauce and parmesan cheese over top layer. Cover pan with foil and cook in oven one hour. Let stand fifiteen minutes. You can add two boxes of drained chopped spinach to ricotta if you would like vegetable Lasagna.
April 4, 2019
|

Posted in:
Ingredient list
1/4 c. flour
1/2 tsp. salt
1 medium eggplant, peeled, cut into 1/2-inch slices
1 beaten egg
1/2 c. cooking oil
1/3 c. grated Parmesan cheese
homemade tomato sauce
1 (6-oz.) pkg. mozzarella cheese, sliced
Instructions
Preheat oven to 350º. Combine flour and salt. Dip eggplant into beaten egg, then in flour mixture. In large skillet, brown eggplant in hot oil; drain well on paper towel. Place one layer of eggplant in 10x6x2-inch baking dish; cut slices to fit. Sprinkle with half the Parmesan cheese. Top with half tomato sauce. Repeat with eggplant, Parmesan cheese, sauce and mozzarella. Cook until heated through; 30-45 minutes.
February 13, 2014
|

Posted in:
Every time I go out for Italian food, I end up ordering some variation of this salad, so I thought it was time I developed my own recipe for it so I can enjoy it at home too! I'm happy to report this version does not disappoint!! I've listed the ingredients to serve 2, but this is the type of thing that's easily cut down or increased to feed as many as you need.

Ingredients
4 oz mixed mushrooms (cremini, oyster, shitake are good)
2 tsp olive oil
1/2 tsp truffle oil
1/4 cup grated good quality parmesan cheese
2 tblsp olive oil
1 tsp balsamic vinegar
1 tsp red wine vinegar
salt and pepper
2 cups mixed greens, like arugula, baby spinach or dandelion leaves
Preparation Instructions
Preheat oven to broil. Wash the mushrooms and slice them roughly. Toss mushrooms with 2 tsp olive and truffle oils. Coat with grated parmesan cheese. Transfer the mushrooms to a cookie sheet lined with parchment paper. Place under the broiler (not at the top rack or they will burn) and cook 4 minutes. Take out of the oven, stir, and return to broiler for an additional 4 minutes.
While the mushrooms are browning, mix olive oil, vinegars and salt and pepper in a bowl to make a dressing. When the mushrooms come out of the oven, toss the greens in the dressing. Plate onto two plates, and top with warm mushrooms. Note: This salad comes together at the last minute as you need to plate it right away once you've dressed it. The vinegar in the dressing bruises the baby greens quickly, and once you put the hot mushrooms on, they will start to wilt. Using strong greens like arugula and spinach makes for a nice warm salad.
September 27, 2012
|

Posted in:
by Mindy C.'s book, Rohrersville, MD
Ingredients
1 pkg. frozen chopped spinach, thawed- excess water squeezed out
1 can artichoke hearts, drained and chopped
1/2 chopped pepper, red or green
1/3 cup each, Parmesan and Romano cheese
1/2 tsp. minced garlic
1 cup sour cream
1 cup shredded Mozzarella cheese
Preparation instructions
Mix all ingredients together. Cook in microwave for 7 min. or 15-20 min in oven @ 350 until cheese is melted and bubbly.
Serve with crackers or crusty bread
Submitted by: Helen C