Articles In The Press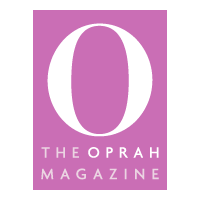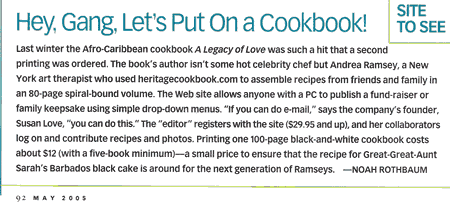 Mother Knows Best
"…. Not only did she give you life itself (and that awesome rack), Mom taught you absolutely everything you know. So this year, give her an M-day gift that proves you've finally, after all that back-talk and sass, absorbed her lessons. Immortalize her genius recipes in a
classy custom cookbook
."
A recipe for preserving family history
"…. One site – HeritageCookbook.com – will even do most of the work. Simply choose from several covers and graphic styles, scan in family photos, and type in recipes, following the template.
Customers pay to use the site – the fee covers multiple family members – and must order a minimum of four copies of the finished product, which is 6 by 9 inches, has a spiral binding, and arrives by mail.
Susan Love, who owns the site, says business is brisk because family cookbooks combine two popular hobbies: cooking and genealogy.
"When you sit down and think about writing your memoirs, unless you're a genealogist, where do you start?
But one or two recipes kind of pulls it out of you. It's a tool," she says.
Ms. Love's first orders came from Southerners, who tend to prize home cooking and preserving the past. Most of her clients are women, who dedicate their books to the memory of a mother or grandmother.
Love's best pieces of advice: Choose one editor in chief and make sure that pictures are scanned in properly at the right resolution."
– Living Food – from the January 12, 2005 edition
By Elizabeth Lund | Staff writer of The Christian Science Monitor
Mother's Day is fast approaching, and you don't want to send the
same tired greeting card, or flowers that will die too soon.
This year do something different. You know your mother
has always prepared the best meals. Why not commemorate her legacy
in the kitchen with her very own personalized cookbook.
Heritage CookBook will print that special lady's recipes with pictures
and even stories that give the dish that something.
Personal cookbooks
Among the many reasons to want to publish a personal cookbook, one of the most common is to collect, preserve and share family recipes. Personal cookbooks' purposes may also include fund-raising, or special-occasion gifts.
Those considering such an enterprise may wish to check out HeritageCookbook.com, a Web site that offers specialized help in printing such personal books.
HeritageCookbook publishers say that with its services books can be printed in 10 to 15 business days on good-quality paper, and as few as four books may be ordered.
Books the company publishes include photos in black-and-white and color.
Find information on the Web at http://www.heritagecookbook.com/"
Compiled by Susan Selasky, Free Press Test Kitchen director and Food writer Sylvia Rector from staff and wire reports.
Monica: Heather's Holiday Bazaar from the Satellite Sisters blog
"Heather in Tennesse sent us a great idea for a holiday gift. She and her five sisters gathered all of the family recipes, photos and family stories and are having them professionally published by
Heritage Cookbook
. You can link to their website here.
It may be too late to get this gift together for this holiday as it takes 2-3 weeks for printing-but it would make a great family project for this spring.
Thanks Heather."
When APH member Susan Love grew weary of her fundraising career and needed a change, she decided to found her own business—
HeritageCookbook.com
.
Four years and 50,000 cookbooks later, it's clear that Susan has found her recipe for success.
Susan's father used to say, "There is nothing like owning your own business."
After trying her hand at several other careers—full-time mom, teacher, and world-traveling fundraiser—Susan needed a change and set out to find out if her dad was right. As Susan considered the type of business she wanted to run, she knew it had to be an internet-based company with a "grassroots" flavor to it.
"I decided to build a web business which would help bring family and friends together," says Susan.
Susan's inspiration took its form in HeritageCookbook.com, a website where individuals, families and organizations can create custom cookbooks using their own recipes, photos and stories.
Organizations and individuals use Susan's service to produce unique fundraising tools, and families use it as a way to preserve and share beloved family recipes and memories.
One of Susan's early customers was a twelve-year- old girl undergoing life-saving medical treatments in San Antonio, Texas.
"She needed something to do while undergoing treatments and also wanted to help her parents with medical expenses," remembers Susan. "We have remained friends, and when she got better she sent me her favorite stuffed animal in case I got sick one day and needed a friend."
Most of us need only look to our own recipe boxes to understand the emotional appeal of a family recipe collection— the way certain foods remind us of beloved family members and memorable family events, as well as family traditions and cultural heritage. For Susan's customers, that food-family connection often translates into emotional reactions to her completed books.
One HeritageCookbook.com customer tells of a large family gathering where the cookbooks were sold."I read the introduction that my sis and I wrote. There were so many teary eyes around that room," she writes.
"Everyone bought at least two! We sold out in 15 minutes! We couldn't believe it! … My sis and I received so many thanks. It was wonderful."
Those tears of joy are just what Susan hopes for when customers open their boxes of newly printed cookbooks.
"My husband tells me that we should put 'Heritage Hankies' in the boxes with the books," she says.
For Susan, one of the best things about owning her own business is the interaction with customers who call to chat about their projects.
"Sometimes they need real help as they are nervous about their ability to write a cookbook on the internet. Sometimes they just want to talk to someone about how much the project means to them. I meet so many wonderful people this way."
Extracts from The Association of Personal Historians Newsletter, 2007
By Rainey C. Christofferson